Dear Pro Tools Users,
We have just released
Blue Cat's DP Meter Pro 4.2
, an update for our unique audio metering and side chaining plug-in.
The new version comes with an updated
zoomable graphical user interface
to improve readability on any type of screen, with built-in
brightness control
to prevent eye fatigue while checking audio levels.
Presets management
has also been improved, so that recalling your favorite metering configurations and ballistics settings is much faster.
MIDI output
is now available for the
VST3 plug-in
format (in case you care...) to create side chain effects via MIDI in recent VST3 hosts. The update contains many other improvements and a few bug fixes (full list below).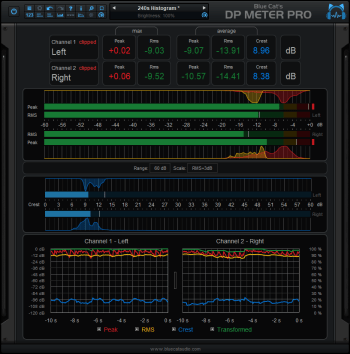 Upgrade to the new version is free for existing customers. A special introduction price (
20% off
) is available
until June 1st
for new customers: the plug-in joins the
"Dynamics Month"
on bluecataudio.com, with
up to 33% off
dynamics processing or analysis plug-in.
Demo versions of the DPMP 4.2 plug-in are available for download on
www.bluecataudio.com
, in most popular plug-in formats for Mac and PC.
New in Blue Cat's DP Meter Pro 4.2:
- Refreshed GUI design, with improved usability and touchscreen support.
- The GUI can now be zoomed from 70% to 200%.
- Brightness control now applies to the entire user interface.
- Last loaded preset is now remembered in session and displayed in the presets menu.
- Plug-in state can now be reverted to the last loaded preset.
- Now supports retina displays on Mac (text and graphs using high resolution).
- VST3: added support for MIDI CC output (require a recently updated VST3 host).
- VST3: added support for MIDI program change messages to change presets via MIDI.
- VST: the user interface is now properly resized in Cubase on Windows.
- Mac: new installer.
- Mac: fixed minor compatibility issues with Mac OS High Sierra and Mojave.
- Fixed missing user manual in plug-in.
- Changed demo limitations: up to 5 instances allowed, bypass time changed to half a second, and bypass parameter is not affected anymore.
- Dropped support for Windows XP and Mac OS X 10.6 and earlier.
- Dropped support for legacy RTAS and DirectX plug-ins formats.
- Fully compatible with previous versions of the plug-in (except for VST3 on Mac, as explained here:
https://www.bluecataudio.com/Blog/ti...hanges-on-mac/
).
System requirements:
- Intel Mac running Mac OS 10.7 or newer.
- PC running Windows Vista or newer.
Pricing:
- 79 EUR/USD instead of 99 (20% off) until June 1st.
Blue Cat's DP Meter Pro 4.2 Overview Video
Enjoy!